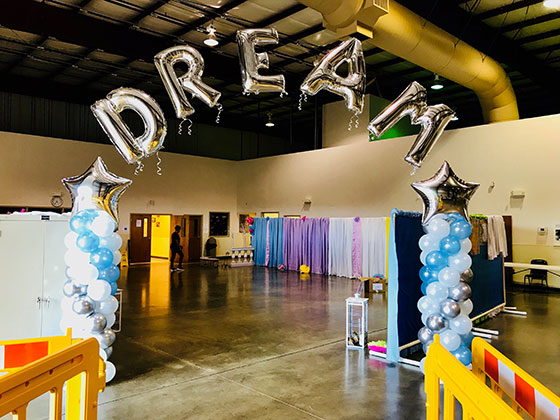 When it comes to balloon creations, we give your event the royal treatment.
When it comes to balloon decor, we give your event the royal treatment.
There's little doubt that, when it comes to party decorations, balloons elevate the mood (pun delightfully intended) while adding color and pizzazz, regardless of the event. Even corporate events can be made more inviting and fun with the addition of great balloon decorations.
At Balloon King and Queen, we apply artistry, creativity and innovation to every one of our balloon decorations. From basic columns to intricate balloon arches, every custom balloon decoration of ours is made with passion and an unwavering commitment to excellence. We remain dedicated to always improving our craft so we can continue to wow your guests with new and unique balloon decorations for your events.
Clusters, centerpieces, backdrops, and bouquets — whatever idea you have — float it by us (we do love our puns), and we'll do our best to bring it to life. We're excited and inspired by a good challenge.
As a proud part of the Columbia community, we are eager to help you with decorations and event planning for your parties, fundraisers and corporate events. Have a non-profit organization you believe in and want to support? Let us know who they are and what they do, and we will happily donate 10 percent of your order to their worthy cause. We also offer fundraising programs to assist you in raising money for the causes you believe in.